Several members attended Rob's workshop on construction of the depron Little Stik at the RBL social; club on Jan 17th 2016.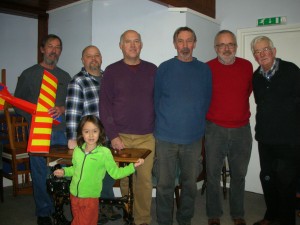 Members lined up ready for instruction!
Little Stik is the first club mass build, it is a well known model for which Rob has modified the build, both to strengthen and to reduce weight!
Rob, at early stage of fuselage assembly
The workshop lasted the entire afternoon, including assembly of the cruciform strengthened fuselage, folding and gluing of the 3mm depron wing (pre covered with parcel tape – there are lots of YouTube videos showing depron wing construction techniques, click here for just a sample). Members plan to hold flying competitions with the Little Stiks when the weather finally abates!