Postponement until Sept 29th was a positive move, well selected Gary!
The weather was glorious with very light but variable breezes. Some really good flying and splendid scale models brought along and flown by Phil. Here a couple of snappy shots of Phil's Fokker D VII.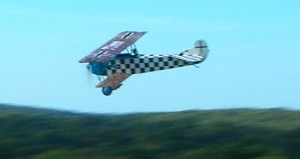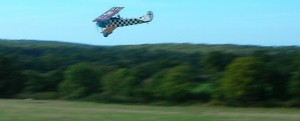 Regrettably, the quality of the photographs does not do justice to the attention to detail and finish of the build!
The club usual competitions took place – Oke Stik Race was won by Gary, seen here the trophy being presented by club chairman Rob.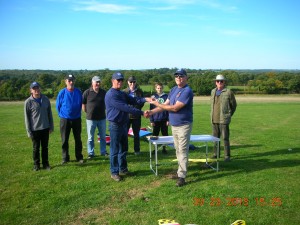 Five members took part in the Last Man Down Competition for 2m Foamie type gliders, (Simple rules: Hand launch and 30 second motor run – timed by independent scrutineer – then last man down, who MUST land on the strip to qualify!)
this month the accolade goes to Nigel! Being presented by Andrew – last month's winner.
The day only marred by another arboreal event – repairs are continuing!