Okehampton Model Flying Club History
Okehampton Model Flying Club was formed on the 2nd of November 1992. The Inaugural meeting was held at the Royal British Legion Social Club, 3 Station Road Okehampton Devon. 16 people attended and joined the club and became BMFA members; of the original 16 only 3 remain as members today (Oct 2014).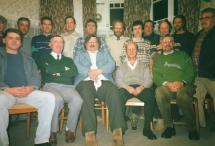 Inaugural meeting of Okehampton Model Flying Club November 2nd 1992
The Club has met regularly at the Royal British Legion Social Club on first Wednesdays of the month October – April, since the club started with a brief change of venue to the Conservative Club, returning the following season to the RBL; 2015 saw a change of meeting day to second Tuesdays of the month, all meeting details can be found on the calendar page on the club website.
Since formation the club has tried several outdoor flying sites, variously at Drewsteignton, Stockleigh, North Tawton, Fowley, Sourton, and most recently Broadnymet Farm at Bow, in addition to the slope soaring sites on Dartmoor which are enjoyed by the gliding enthusiasts. Some of the power flying sites have proved unsuitable due to farming techniques or access, and other sites became untenable and were lost due to inconsiderate flying by some club members. Regrettably the Broadnymet at Bow site was lost to the club in 2014 due to the selfish interests of a small minority of former members, causing a severe rift in the club. However, thanks to careful nurturing and support from the club committee and loyal members, the club is reinvigorated and growing in membership.
The club enjoys access to alternative power flying sites in addition to Dartmoor which is used regularly by the gliding members of the club. The power flying sites are by consent of, and arrangement with the land owners, and are subject to a few restrictions. Access is only permitted to club members and authorised guests with full BMFA membership.
Amongst the present club membership (2015) there is a range of modelling interests, flying abilities and ages. The club has A & B certificated members and a registered BMFA instructor.